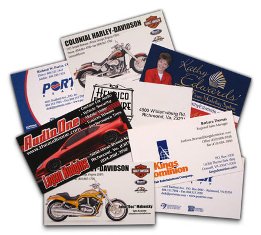 To obtain continuing business, your name and company must be in front of the people, other businesses and the community as appropriate on an on-going basis. The business card provides this service. It is the introduction to potential customers as well as keeping existing customers aware. The right business card can get you noticed or be a conversation starter. Certain events promote the widespread use of the business card – business gatherings, mixers, social functions. promotional mailings, community meetings and so on. Business cards with QR codes link you to the Internet.
Indiscriminate distribution of business cards just to have them out there may result in the card being tossed more often than not. To avoid the "throw-away" syndrome, utilize the business card note pad – a business card combined with blank sheets together with a calendar spiral bound for the compactness of a pad. You now have a give-away that will not be thrown away.
Van Nuys Business Card Printers Serving The San Fernando Valley
What makes for an effective business card? One approach is to provide a matched set of business card, letterhead and envelope. This makes the business card a significant part of the entire business image.
Independent business cards, that is those that promote primarily you, offer a distinctive freedom of expression; your picture, your product bold or in the background, a logo prominent or subdued, 2 sided, vertical. Color and foil capture the eye immediately. The rest is easy – name, location e-mail, web site as they fit.
The design of a business card usually reflects several influences, four of which are cost, intent, personal and business. Remember, your business cards represent you and the difference between a stock card with someone else's company name on the back and a unique, high quality business card can be less than fifty dollars. Bring your thoughts and ideas to let us help with a distinctive design.
Business Cards In Los Angeles
Minuteman Press of Northridge is the #1 provider of Business Cards in the San Fernando Valley. Our quality and customer service are unmatched. To get more information on how we can help you create your perfect business card, contact our store at 818-341-1003. We make it our business to make you and your business look good.
To Design Your Own Business Card
Click here