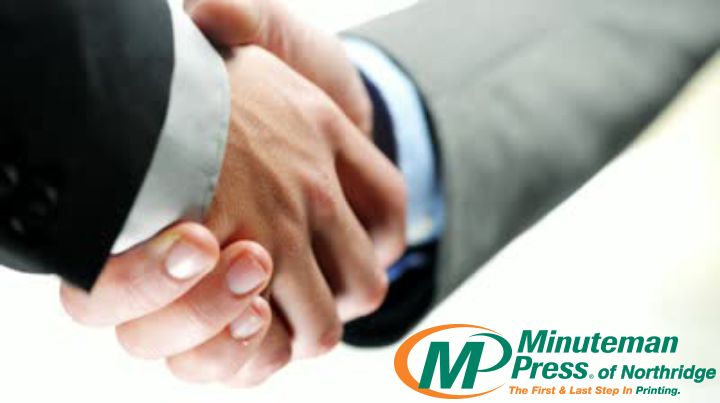 "I have been a customer for 25 years, Deanna, Mary & Sandy are a pleasure to work with, This trio cut my printing bill in half, they have always offered extremely competitive pricing. The quality has been flawless, ordering forms and business cards has become a 2 minute process, thanks to Minute Man I spend about 10 minutes a year managing my printing needs, literally, thanks to all of the Minute Man staff......
John D. Weltsch Senior V.P. - American Precision
"It sometimes is difficult to find local companies that consistently perform beyond our expectations. Minuteman Press of Northridge has been going above and beyond, providing us with printing services for more than 10 years. Sandy Halter is not only a gentleman, but also very knowledgeable and helpful, and we have relied on his professionalism on many projects. We would never think of going anywhere else for our printing needs."
Jim Berry - Kahn Air Conditioning.
"Having worked with Minuteman Press for over 20 years, I can honestly say they are one of the best in the business. I am a graphic designer and must see many jobs through from concept to print production. Minuteman Press has never let me down with any of my projects from simple to complex."
Art Sassoe,Creative Director - FOX SPORTS.
"I've been working with Mary and Deanna at Minuteman Press of Northridge for about 5 years now and I just can't say enough about their dedication to Quality, Customer Service and Excellent Price! At Michael Albert Insurance, I am the Company. My name is literally on all off my printing so the Quality, Appearance, Presentation, and Cost of my printing is very important to me. Minuteman Press of Northridge has always delivered excellent results to me every time I fulfill a new printing order. Mary has helped me extensively with my ideas, design, logo, and set-up throughout the whole creation, and finalization, on all of my printing needs. I am such a Satisfied Customer of Minuteman Press of Northridge! I couldn't imagine fulfilling my printing needs anywhere else!"
Michael S. Albert – Michael Albert Insurance.
"…you had been helping me with some quotes for our resource directory. I just wanted to let you know …I thank you so much for your patience and excellent customer service. We will keep you in mind for the future."
Lauren - ZOE International
"Great Service! Always top quality at best prices and treat you like family!"
Casimir "Buzz" Milosh